FPGA (Field-Programmable Gate Array) is the product of further development based on programmable devices such as PAL, GAL, and CPLD. It emerged as a semi-custom circuit in the field of Application Specific Integrated Circuits (ASICs), addressing both the shortcomings of custom circuits and overcoming the shortcomings of the limited number of gates in the original programmable devices.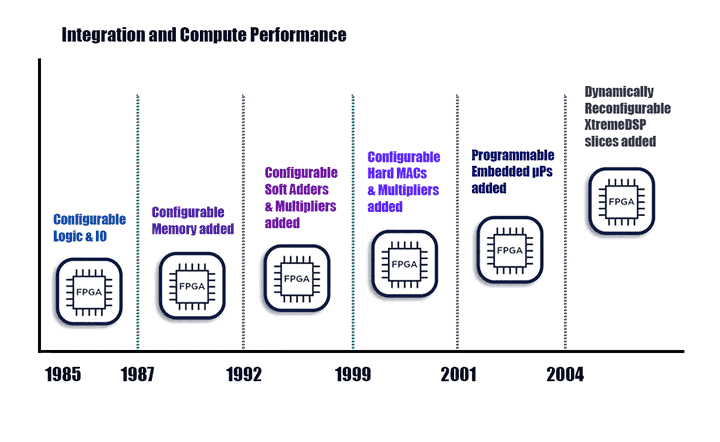 Types of FPGA Chips
Field programmable gate arrays are divided into three categories based on application: low-end FPGAs, mid-range FPGAs, and high-end FPGAs.
Low-end FPGAs: These types are designed for low power consumption, low logic density, and low complexity per chip. Examples of low-end FPGAs are Altera's Cyclone family, Xilinx's Spartan family, Microsemi's Fusion family, and Lattice Semiconductor's Mach XO/ICE40.
Mid-range FPGAs: These types of FPGAs are the best solution between low-end and high-end FPGAs, and they are developed to strike a balance between performance and cost. Examples of mid-range FPGAs are Altera's Arria, Xlinix's Artix-7/Kintex-7 series, Microsemi's IGL002, and Lattice Semiconductor's ECP3 and ECP5 series.
High-end FPGAs: These types are developed for logic density and high performance. Examples of high-end FPGAs are Altera's Stratix series, Xilinx's Virtex series, Achronix's Speedster 22i series, and Microsemi's ProASIC3 series.
Applications of FPGAs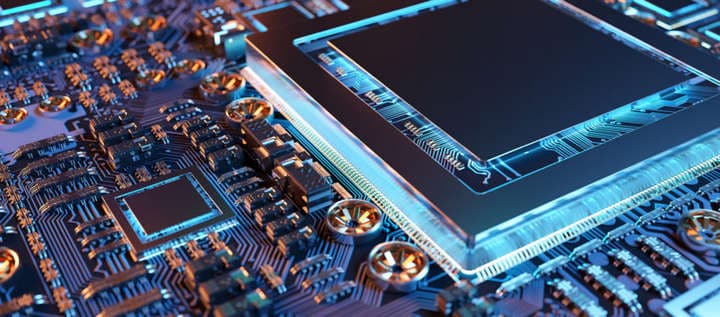 Due to their programmable nature, FPGAs are ideal for many different markets, and Xilinx is the industry leader in providing a complete range of solutions, including FPGA devices, advanced software, and configurable ready-to-use IP cores to meet the needs of the following markets and applications::
Aerospace and military products – Radiation-resistant FPGAs and IP cores for graphics processing, waveform generation, and SDR partial reconfiguration.
ASIC prototyping – FPGA-based ASIC prototypes for fast and accurate SoC system modeling and embedded software verification.
Automotive – Automotive silicon and IP solutions for implementing gateways and driver assistance systems, comfort, convenience, and in-car infotainment. – Learn how Xilinx FPGAs enable automotive systems
Broadcast and Professional AV – Rapidly adapt to changing market demands and extend product life with broadcast target design platforms and high-end professional broadcast system solutions.
Consumer Electronics – Cost-effective solutions to support a new generation of full-featured consumer applications such as integrated handheld devices, digital flat panel displays, information appliances, home networking, and residential set-top boxes.
Data Centres – Designed for high bandwidth, low latency servers, networking, and storage, enabling higher value cloud services.
High-performance computing and data storage – solutions for network attached storage (NAS), storage area networks (SAN), servers, and storage devices.
Industrial – Xilinx FPGA and target design platforms for industrial, scientific, and medical (ISM) enable greater flexibility, faster time-to-market, and lower total incidental engineering costs (NRE) for various applications, including industrial imaging and surveillance, industrial automation, and medical imaging devices.
Medical – For diagnostic, monitoring, and therapeutic applications, the Virtex FPGA and Spartan® FPGA families address a wide range of processing, display, and I/O interface requirements.
Security – Xilinx offers solutions to meet the needs of evolving security applications, from access control to monitoring and security systems.
Video and Image Processing – Xilinx FPGAs and target design platforms enable greater flexibility, faster time-to-market, and lower overall non-recurring design costs (NRE) for various video and imaging applications.
Wired Communications – End-to-end solutions for programmable network card packet processing, framers/MACs, serial backplanes, and many more applications.
Wireless Communications – RF, baseband, connectivity, transport, and networking solutions for wireless devices supporting standards such as WCDMA, HSDPA, WiMAX, and more.
Key FPGA Application Areas
Industrial: FPGA chips are widely used in industrial applications, specifically in video processing, image processing, CNC machine tools, and other fields to achieve signal control and computing acceleration functions. In the CNC machine tool servo system, FPGA chips can achieve multi-channel motor control; in the LED display control system, FPGA chips also have more applications, which can meet the needs of large LED display system display data format conversion to meet the customization of various shapes and specifications of the display and can output a more detailed display screen. Frost & Sullivan predicts that by 2025, the Chinese market for FPGAs used in industrial applications will reach $10.08 billion.
Datacenter: FPGA chips are mainly used for hardware acceleration in the data center sector, which can balance performance, flexibility, homogeneity, cost, and power consumption. Frost & Sullivan predicts that by 2025, the Chinese market for FPGAs in data centers will reach $3.46 billion.
Automotive electronics: FPGA chips can control and drive electric vehicle motor systems, signal bridging image sensors, and implement functions such as machine vision and target detection. Frost & Sullivan predicts that by 2025, the Chinese market for FPGAs used in automotive electronics will reach RMB 2.63 billion.
Artificial Intelligence: FPGA chips are highly flexible and have powerful parallel computing capabilities, and their parallel processing units can reach millions. FPGA China's market size will reach $1.25 billion.
Conclusion
The design of FPGAs is not simply a matter of chip research but of using the patterns of FPGAs to design products for other industries. Unlike ASICs, FPGAs are widely used in the communications industry as a new technology, FPGAs are widely used in communications, industry and other fields, and it is important to strengthen the research, gradually solve the problems in the application process, broaden the scope of application, improve the design concept, and make the relevant technology better for society.
More specific FPGA information can be found here.