Looking to start a blog and need some ideas for your site's design? While you can't go wrong with a standard blog design, there are many unique design concepts and trends that can help your blog stand out. The design community has seen many trending designs that have become mainstream now due to their effectiveness. Some examples of this are the hero image, minimalist design, and flat designs. If you want to get an idea of what people are talking about today, here are the best website design trends to keep an eye out for.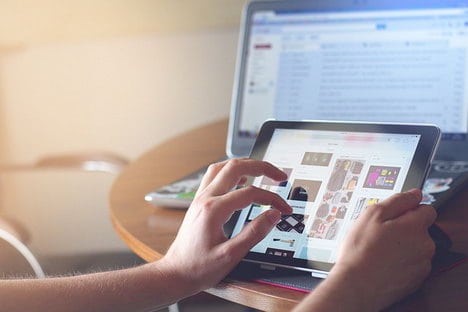 Trend #1: Big Bold Typography
More web design firms are taking chances with typography based web designs. They're using oversized typography to really make a big statement and convey a clear message to their visitors. They're also using custom typefaces and using anywhere from three to four typefaces to create contrast. This is a different take on the minimalist design and works really well if you want to communicate to your visitors straightforwardly.
Trend #2: Video Background Splashes
A different take on the hero image is the video background splash. Every UX consulting firm is combining big headlines with background videos that play in a loop. Designers are combining big headlines with background videos that play in a loop. The videos are usually done in lo-fi as not to detract away from the headline. It's almost like the video acts as a hero image in that it draws attention with its visual impact. Many sites are using videos related to what their business is about to add context to their headline.
Trend #3: Skeleton Screens
If you've read anything about user experience, you know that loading time is always a big concern for site owners. Slow loading times lead to site abandonment, so it's important to optimize your site for fast loading. To help combat this problem, more designers are setting up the site to load in stages. First, the layout is loaded and is followed by the images and web elements in the top fold. This creates the perception that the site has already loaded, which prevents site abandonment.
Trend #4: Intricate Layouts
The industry is starting to see much more diversity in layouts. Sites are using card-based layouts, alternating layouts, and mixed layouts to present their content. The reason why these layouts work is that it keeps the user engaged. Having the same layout presented in a long format page (like a blog's main page) can bore the user. Using different layouts also helps draw attention to all of the site's content instead of the top folds of the page.
Trend #5: Animated Designs
Animated sites are getting really popular these days. They're usually paired with flat designs for an appealing, interesting, and unique look. It's the polar opposite of cold corporate sites. However, some websites use it with photography to add cool effects or demonstrate how their products work. These attempts are usually well received because they add fun to the presentation and are engaging to users.
Trend #6: Website Interactivity
Some websites are taking the extra step to engage their users by adding interactive elements to their websites. Small things like asking the user to click on an image to see different angles, adding small video clips to play on the page, and adding unique mouseovers can go a long way in capturing users' attention. The trick to doing interactivity work is making sure that the element is there to add value to the user and not act as a gimmick.
Trend #7: High Quality Photography
Let's face it. Most stock photos can be spotted from a mile away. People online want to see something real. That's why more websites are moving towards unique and high-quality photography for their sites. They're using it for their backgrounds, hero images, and about us pages. Some are even using photos with duotones for their hero images, which adds a modernized retro feel to the website. The bottom line is that real photos add a personal touch and authenticity that can't be duplicated.
Trend #8: Mobile First Design
While the idea of the mobile-first concept isn't anything new, more businesses are starting to take it seriously. The idea is to design for mobile first since it's harder to design for. Then, you can expand into the other forms as it will be easier to adapt to them. It's actually not too far fetched to go mobile-first since Internet browsing from mobile devices just recently surpassed desktops not too long ago. It seems like this usage trend will continue to grow, making mobile first a smart design decision.
Trend #9: Use of Bright Colors
For many years, designers often criticized websites that used bright colors. The idea was bright colors were too distracting to users. But all of this has changed because too many websites used the same colors. It was becoming hard to really differentiate one website from the other. Designers are opting to use more colors, brighter colors, and different combinations of colors. At the same time, they're making sure that it is aesthetically pleasing and there's enough balance between allowing users to focus on the content.
Trend #10: Content Design
For a long time, the design was all about what surrounded the content. Now, more websites are putting more emphasis on designing their content. They're creating a visual hierarchy with their content, mixing in different typefaces, visual cues, and playing with different formatting. The result is a more eye-catching presentation that helps increase readability, lengthens the time spent on the page, and results in more actions. Design won't be just relegated to everything else that surrounds the content anymore.
Those are some of the web design trends that people are talking about. These trends may inspire some great ideas when you start a blog. It doesn't take that much to make your website stand out. It's a matter of exploring different elements, styles, and trends to figure out which combinations work best to create your vision.