Instagram has so many users, it is difficult to stand out from the crowd and attract the attention of others. The more followers you have, the more people can see what you post, and other users may start to pay attention to you. There are some practical ways to help you quickly get free Instagram followers. Let's take a look.
Tip 1: Find the theme that suits you
If the content you post has no theme, it isn't easy to get followers. Celebrities can post content related to daily life, but most people don't care what you eat for breakfast. Find out a suitable theme. Whether it is food, pets, or outdoor photography, it can attract a group of followers with the same interests.
Tip 2: Like and comment on other's posts
Actively post meaningful comments under other Instagrammers' photos and videos. It can increase the chance of attracting other Instagrammers. Like is better than nothing, but comments are most likely to get feedback from followers.
Sometimes, you can immediately attract his attention after you comment on someone's photo. Even if not, it is likely that someone else will see your comment and check your Instagram profile and then give your posts some free Instagram likes.
It is estimated that Instagram generates 575 new likes per second, but only 81 new comments. People think that comments are more unique or precious, and more valuable than likes. Start a conversation with strangers in the comment stream under others' posts. When comment, tag people, praise them, and follow them, they are likely to follow you. Leave only positive comments, and take the time to write longer comments. They will be more interested in wanting to check your Instagram and following you.
Tip 3: Start a title that encourages interaction
When adding a caption to a photo, it's best to clearly write what you want others to respond to when they see the photo, and encourage them to interact and comment with you. Once someone comments, you can start communicating about it; you can make new friends and gain new free followers. For example: "Double tap if this cute cat made you laugh!", "If you're happy and like it, just double tap!", "Which should win? A or B? Comment to vote!"
Tip 4: Link Instagram account to other social media accounts
Especially connect to the Facebook account, so that you can quickly connect with friends who also have Instagram accounts and get followers for free. After you connect your Instagram account to your Facebook account, you can "automatically follow" all Facebook friends, and then encourage Facebook friends to follow you. Your Instagram followers will increase rapidly.
Tip 5: Get Instagram followers quickly and easily with GetInsta app
GetInsta is a free and practical app to help you get unlimited real Instagram followers & likes easily and quickly. It provides a very secure and reliable way to get real and high-quality Instagram followers and likes. Just three steps to make it come true: create an account, earn coins on the app, and get your followers and likes.
Guide to Get Free Followers and Likes with GetInsta
Step 1: Download GetInsta and install it on your Win10/Win8/Win7/Vista/XP computer.
Step 2: Create an account in GetInsta and log in with your account. After you log in, you'll get some coins instantly. You use these coins to buy followers and likes for your Instagram accounts.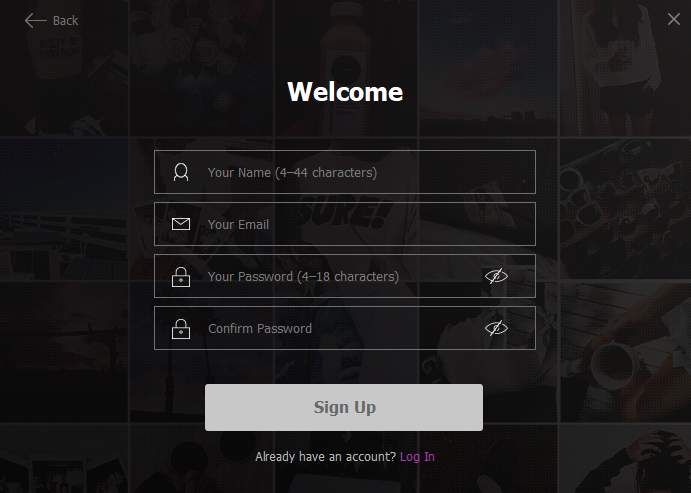 Step 3: Add an Instagram account that you want to increase its followers. You can add 5 Instagram accounts total.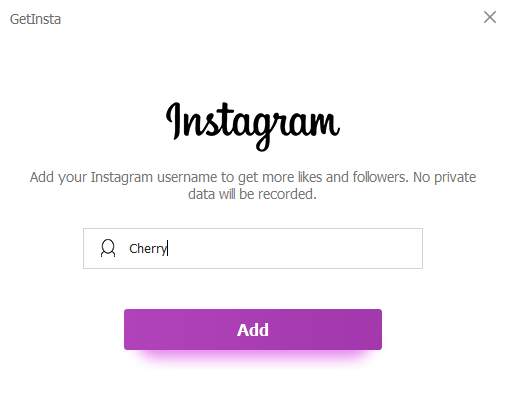 Step 4: Click Like button or Follow button to earn more coins. With the coins, you can purchase Instagram followers and likes instantly.
Step 5: Tap on "Get Followers" or "Get Likes" tap on the left panel to publish a follower or a like task.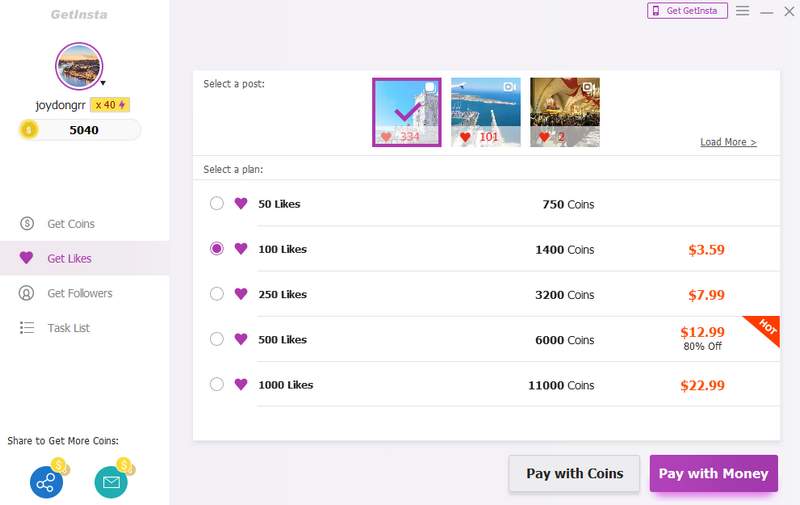 It will start to get unlimited free Instagram followers & likes. You can check the progress of the tasks from the "Task List."
Main features of GetInsta:
– 100% safe and clean, no virus, no privacy leak
– Fully compatible with Win10/Win8/Win7/Vista/XP PC
– Totally and unlimited free
– No password, no survey, no risk
– 100% real and active users, high-quality free followers, and likes
– Instant and reasonable delivery; changes will be seen within 24 hours
– Support 16 multi-languages