Your blog can serve as the hub of your business, so it makes a lot of sense to make sure you have a right look. Right after you set up your domain and web hosting, you should start looking at what kind of layout to use for your blog. If you're setting up a business blog, you may think you'll be confined to particular looks. However, there are a wide variety of layouts that you can use to help your blog stand out. Here is a quick list of business design layouts you can use for your blog.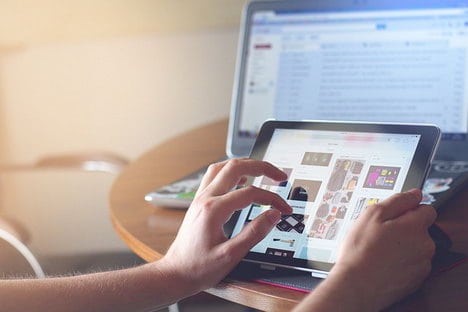 Simple Hero Image Layout
If you want to go with a minimalist approach and focus on the content, Help Scout has a great layout you can model. Half of the page is a link to their featured article. Below that, you can browse their blog posts between the most popular, trending, recent, etc. You only start to see links to individual posts when you scroll down to the bottom of the page. This is like the hero image web design format except adapted for a blog.
Card Based Design Layout
Pinterest's card-based design has become popular in many formats, from social media, eCommerce to blogs. If you're looking for a way to draw attention to your blog posts, you can go with this type of design. You must be aware that attractive images make card design work. You need to ensure each image has an attractive blog post thumbnail that makes people want to click.
Contemporary Twist to an Old Format
If you've followed the blogosphere for some time, then you're probably already familiar with blogs with multiple side menus with multiple widgets. One widget may display the latest posts, another may link to archived posts, and another may even show a sponsored ad. Design milk has taken format and put it into one big column. Different navigation sections like the category links, featured posts, and archives section are further down into the page so that the content gets the most attention.
Magazine Style Format
One way to present your blog to change the perceived value is to with the magazine format. This format uses high-quality images and photography to accentuate the content. The layout is also akin to what you'd find in a magazine. It's designed like an editorial and very headline-focused to draw the reader's attention to the content. An example can be found at: https://gooyaabitemplates.com/topmagazine-blogger-template/
Consultant/Expert Angle
Just because you're building a business blog doesn't mean that you have to look corporate. You can still convey expertise, confidence and high value with personality. Neil Patel uses an image of himself holding subscription boxes and links to video play buttons on his blog. It adds personality without being too quirky. The layout itself is very simple and clean. The focus is put on the headlines of the blog posts as well as the quality of the content.
Monetization and Lead Generation on Steroids
Ramit Sethi also approaches his blog as a consultant and an expert. But what sets him apart from many others is the way he uses his blog to generate leads and monetize his content. There are opportunities to subscribe to his newsletter in between blog post link. There's a large lead generation ad on the top right sidebar. To add to that, he offers many helpful guides which create multiple lead-generation opportunities. Part of the genius in this design is the simple layout, but the other part is how integrated the monetization and lead generation elements are into the blog layout.
Newspaper Style Layout
If you produce a lot of content, it can be hard to make sure all of it gets read by your visitors. Mashable takes care of this problem by going with a newspaper-style layout for their blog. The featured posts are at the very top. From there, the content is organized into three columns below the top fold – what's new, what's rising, and what's hot. The posts are also marked with the number of shares to help draw attention to popular posts.
Simple Blog Format with Teasers
When in doubt, you can always go with a simple blog format. This is the classic WordPress format, where there is a headline and a couple of teaser paragraphs with a link to read more. This is an excellent layout if you want something simple and don't produce too much content. A good example is the Successful Blogging blog.  While it lacks advanced navigational options, the content delivers, and the blog is set up to generate leads regularly.
That's a quick list of the top business design layouts you can use. You'll quickly learn that there's a lot that goes into building a successful blog. Whether it's the technicalities of installing a script with your web hosting provider, promoting your content, or monetizing your blog, you'll constantly find yourself facing new challenges. With that said, having the right design, branding and layout will give you a foundation you can build from, so make sure you put in the time to get these elements right.