Building a reliable and working electronics prototype is a complicated task. No matter in which stage – design, prototyping, or assembly you are, even a tiny mistake can be critical and carry on throughout all processes. Even if your design is excellent, the quality components may be an issue. Unless you or your company specializes in prototyping and assembling PCBs, it is better to outsource most PCB building cycles. PCB manufacturers such as JLCPCB constantly invest in new equipment and engineers to provide the best services for meager prices.
Short introduction to JLCPCB services
JLCPCB is a well-known PCB manufacturer offering its PCB manufacturing services worldwide. They have more than 15-year experience in the PCB industry and are capable of providing excellent quality products at a low cost. They build more than 6 million PCBs a year. High automation allows PCB prototyping in 1 day and provides a good quality in most manufacturing and assembly steps.
There is no secret that the PCB manufacturing market is highly competitive, so everyone must keep low prices at high-quality production. JLCPCB pricing looks very attractive, and let's look at the most common services they provide.
PCB prototype
PCB prototype or PCB build is a process when a computer-generated PCB is physically manufactured from Gerber or another CAD file. Many steps are involved until the final product is made (without soldered components). These include exposing, etching, coating, labeling, milling, etc. The range of possible PCB scenarios is pretty comprehensive. You can select up to 6-layer PCB of thickness from 0.4 to 2 mm. PCB color may also be selected from 7 possible from green to black. There are many other possible parameters that can be found in their quote form.
Selecting up to five 100x100mm 2 layers of PCBs can be manufactured for only $2. Prototyping PCB takes only 24 hours.
PCB Assembly
PCB assembly is the next step after prototyping, which is critical to achieving reliable working and great-looking electronic devices. Assembly is a highly automated process where, once set; an automatic line takes care of applying solder paste, pick-and-place of SMT components, reflow soldering, and quality control.
The critical factor during PCB assembly is sourcing components. Here at JLCPCB, you have two options: you can source components by yourself or leave them to the manufacturer. JLCPCB already has 230,000+ In-stock Parts in their warehouse, so there is a big chance that most of your components will be there. In such a case assembly process will be accomplished much faster.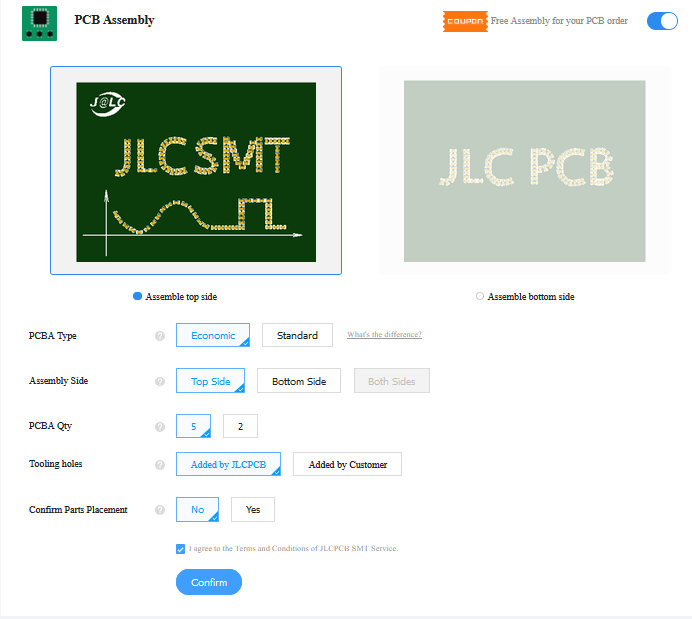 The price of PCB assembly at JLCPCB starts from an $8.00 setup fee and a $0.0017 assembly fee per joint. The process can be accomplished in 24h if parts are sourced locally.
If you are hesitant to try it, you can register to get $54 coupons. This way, you can get your first board manufactured for $2 and assembled for $0.
Why is outsourcing PCB assembly better than DIY?
There are many benefits of choosing to outsource PCB assembly:
The cost. The initial price of PCB assembly is high. You must have the proper knowledge, tools, and equipment; PCB house already has this and, due to mass production, can keep prices very low.
The quality. Again, PCB manufacturers have the experience and tools to maintain the high quality of assembled PC, and increased automation allows for avoiding human errors.
Fast turn times. High automation allows the assembly to be accomplished much faster.
Sourcing of components. PCB manufacturing house already has loads of components locally and can start assembly immediately.
It saves time. PCB assembly is labor-intensive. Instead of spending time on tedious work that can be done professionally, it is better to focus on another creative design.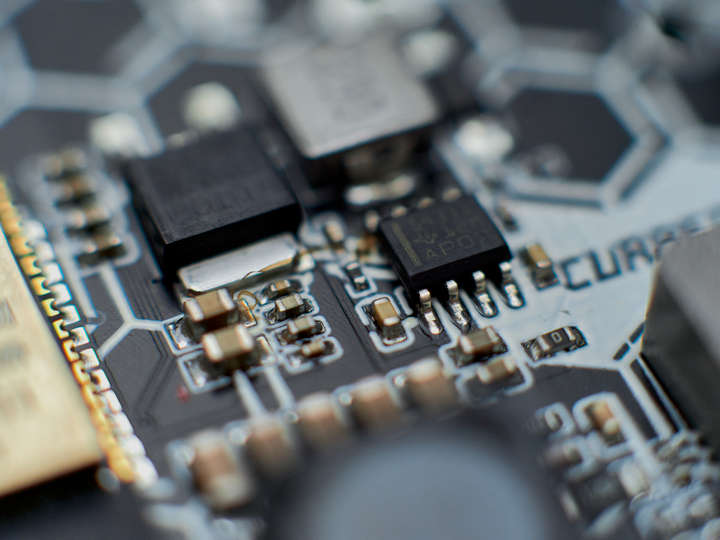 Are there any disadvantages of remote PCB assembly?
There are few, but they are negligible.
Limited control of the assembly process. If you like to keep an eye on everything, this might be an issue. If your initial design has flaws, you may not have the ability to tweak it here and there. Manufacturer such as JLCPCB gives a command to confirm pars placement before putting to the line. If your design is a creative process from start to finish, it is better to do it locally.
Part sourcing limitations. If you leave part sourcing to the manufacturer, you have limited control over what parts are used. Lots of manufacturers source similar components, and you may be fond of one over another. In such a case, you should provide the components. Usually, PCB manufacturers are flexible about this – all you need is to communicate.
Take away
There is no better way to decide on a PCB manufacturer than to try building something. Maybe you have a small laying project waiting to be accomplished. Give a JLCPCB manufacturer ability to develop and assemble PCB. Undoubtedly, the results will be pleasing, and your first PCB can be assembled at no cost. Don't forget to register to get $54 coupons for your first order.