In today's competitive job market, professional certifications have become increasingly important for individuals looking to enhance their careers. One certification that has gained popularity in recent years is PRINCE2 (PRojects IN Controlled Environments. PRINCE2 is an internationally recognized project management methodology that provides a framework for successful project delivery. In this article, we will discuss six reasons why PRINCE2 certification is worth it. You can sign up for PRINCE2 Training courses available online to learn more about the Benefits of PRINCE2 Certification.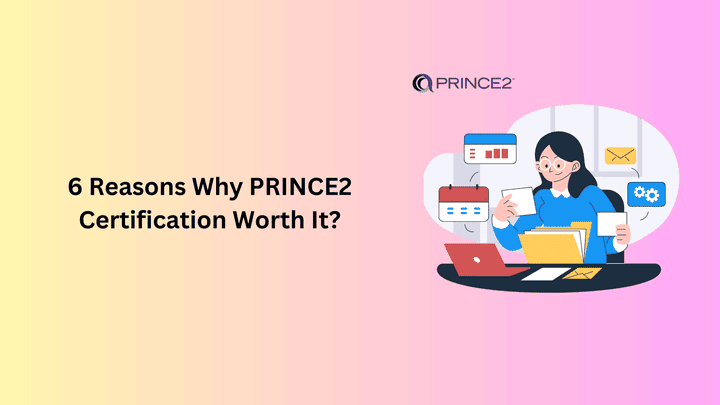 A PRINCE2 certification can be completed for a variety of purposes. Some are apparent, others are not, and occasionally getting certified in PRINCE2 is just a requirement from an employer. The top ten reasons why thousands of workers worldwide sit for the PRINCE2 Certification exams are listed below.
Table of Contents
Develop and improve your project administration skills
The most obvious advantage is the main cause: greatly enhanced Project Management skills. An expert learns and starts using better, more effective Project Management skills after receiving PRINCE2 Training.
You will acquire all the skills required to effectively plan, initiate, monitor, manage, and execute projects and the methodology, terminology, framework, common systems, and procedures used by many project managers. Professionals with a PRINCE2 certification typically work with an alternative approach to the PMP, and knowing both sets of best practices increases their adaptability and versatility.
PRINCE2 Is More of a Methodology Than a Guide
Contrary to other PMP certifications (such as PMP and IPMA), PRINCE2 places more stress on adhering to a set of project management principles than it does on strictly following a manual of instructions.
As a technical reference manual, it outlines a project's steps and phases and the roles and duties involved. It will ensure that you truly grasp all project principles and processes and how to manage them, rather than instructing you on micromanaging the following task in your project. With this, you can modify every PRINCE2 project to meet your needs and carefully monitor every project you manage.
You Can Begin with Simple
When selecting a certification, the amount of time needed to study and prepare, the associated costs, and the disruption it causes to other aspects of your professional life should all be considered. The one-of-a-kind benefit of PRINCE2 is that you can get started by studying only for the PRINCE2 Foundation test. This means you can earn a genuine Project Management certification without devoting significant time and money to your training.
Additionally, you will receive a thorough summary of what to anticipate when deciding to move on to the PRINCE2 Practitioner certification and beyond while completing the PRINCE2 certification. This simplifies the early stages of beginning a job in Project Management certification.
Compared to most other exams, you receive your Certificate sooner
You only need to take the test with your training provider or a public exam once you finish the training. No lengthy and difficult registration procedures, nor is an audit of your application required, as is the case, for instance, when applying for the PMP test.
Many Organizations Find PRINCE2's Approach to Project Management More Compelling
The project manager in PRINCE2 is not the only leader and superstar of the project, as is the case with other Project Management certifications. Within the project organization, roles and responsibilities are explicitly defined and distributed. Therefore, even though the Project Manager always significantly impacts a project's success or failure, he is not solely at fault when something goes wrong in a PRINCE2 project.
In addition, a PRINCE2 project's shared roles and obligations contribute to its success and reduce the likelihood of failure.
The World Recognizes Your Certification
Your PRINCE2 qualification is accepted throughout the world. The de facto project management standard around the globe today is PRINCE2, created in the public IT sector under the watchful eye of the UK government. Governments and businesses in both the public and private sectors use it today, and it is becoming more and more common everywhere, including in the USA, Asia, and Africa.
To meet the rising demand in US organizations, AXELOS Ltd., the entity that controls the rights to the PRINCE2 certification, published a white paper in 2009 titled "Using PRINCE2TM to Manage US Federal Government IT Projects". Consequently, this certification allows you to accept project work abroad.
Conclusion
Overall, PRINCE2 certification is valuable for project managers and professionals looking to enhance their skills and advance their careers. It provides a consistent approach to project management, scalable to suit any project size or complexity, and with a strong focus on risk management and business case. For more information, check this page out: The Knowledge Academy.